Welcome to Serenity Brides!
Are you shopping for dresses for that special day?
Serenity Brides has a great reputation in Colchester for being the most welcoming Bridal Boutique! That's very flattering but its not the most important thing that you need to know when you are searching for that very special dress for the most important day of your life!
In your search for 'The One' you'll find that we offer a service unlike any other. As exclusive stockists in Colchester for many major wedding dress designers, we have a fantastic selection of over 500 wedding dresses, many of them Ready to Wear. We have 4 salons to accommodate you and since we have many more wedding dresses than we are able to show here – the best way of finding 'The One' is to make an appointment – although you'll be most welcome if you just walk in but we are usually very busy and may not be able to see you immediately.
Come along and see us – you won't be disappointed – Read our
Mission Statement
to see why!
Just Some of Our New Arrivals
Don't Tell The Bride!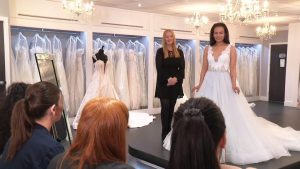 Serenity Brides was recently featured on Don't Tell The Bride – read all about it here or watch it on All4 (Episode 18)
Buy with Confidence!
When you buy any Wedding Dress from us, you'll receive Free Insurance cover – no catches – it's completely free! So if you've been worrying about putting your trust in a Bridal shop you can stop now.
Its just something else that sets us Independent Boutiques apart from the large chains. Our prices are realistic too, and you get all the service you deserve when buying the most Important dress you will ever wear.
To book an appointment call us 01206 577756, fill out our Contact Form or FB message our page.
P.S. Thanks for voting us the Best Wedding Retailer in Essex 🙂
Take a look around our shop …
Favourite Wedding Dress Tags